Best Glock Magazines [2022]
Glock handguns are probably the most popular handguns on the planet and with good reason.
They're a bit bare-bones by some standards, and perhaps a little bit of an ugly duckling in the aesthetics department, but there's absolutely no question they are some of the most rugged and reliable handguns money can buy.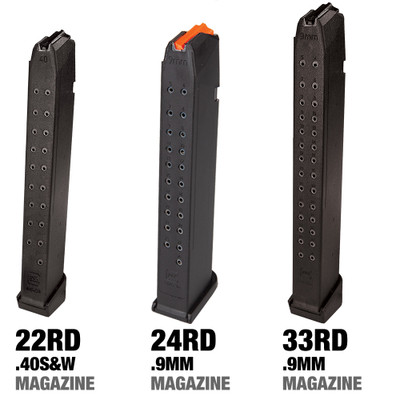 And of course, when you have a product sold on every continent, used by every military, and wielded by legions of law enforcement officers, not to mention the millions of civilian shooters that swear by them, it makes sense that there's a huge aftermarket for upgrades and new parts.
Barrels, slides, triggers, guide rods, mag releases, slide releases; you can literally build a "Glock" without using a single factory Glock part if you want.
And of course, with such a big following around the world, there are about a million aftermarket magazine manufacturers.   Like anything else, aftermarket mags are some of the most common upgrades people go in for, and its no exception with Glock products.
You also have AR's, pistol-caliber carbines, and SMGs that accept Glock mags due to their general ubiquity, so there's a lot of demand for these aftermarket mags.
With all the mags out there though, it can be difficult to choose a mag.  And magazines are incredibly important to the safe and reliable function of your gun, so you really shouldn't skimp on quality there, especially not with a defensive firearm.
So which mags should you choose?
Well, it should come as no surprise that there is a whole host of great aftermarket mags out there, as well as some you should avoid at all costs.
And here they are.
Best Glock Magazines for Carry and Duty Use
These are the Glock mags that won't let you down ever.  They're as tough (or even tougher) than factory options, and should always feed properly, provided you take care of them.  These are the ones I'd trust my life too.
The Case For Factory Standards
First of all, it has to be said that factory Glock mags are perfectly fine, and are in fact of extremely high quality.  If you've already got a good number of OEM mags laying around, you might very well be good to go.
In fact, I'd say that factory Glock mags are going to be better than a lot of aftermarket mags, and are actually better than a lot of OEM mags from other brands as well.  There's nothing inherently wrong with stock Glock mags at all, and don't believe anyone who tells you otherwise.
If you want something different, however, here are the ones we recommend.
Most people probably know Magpul from their AR parts, especially their PMAG magazines that have become the industry standard for the AR-15.
Now, they also make Glock PMAGS that are just as good, if not better, than the factory versions they're emulating.
While the Glock PMAGS had a rough start, all the production issues have since been ironed out, and more and more pro shooters are turning to PMAGS for their Glocks, as are law enforcement officers.